The federal government employs 1,325 materials engineers. The Departments of the Army, Navy, and Air force employ 825 civilians followed by NASA with 284, and the DOD with 90. The Department of Commerce employs 80 and the Nuclear Regulatory Commission employs 56. A few other cabinet level agencies employ small numbers for this occupation.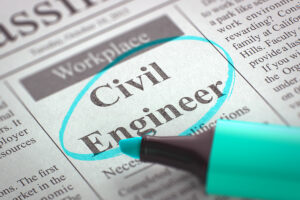 This series covers positions managing, supervising, leading, and/or performing professional engineering and scientific work to:
Determine and advise on a material's essential composition, atomic and molecular configuration, and processing;
Relate the material's essential composition to its properties, end use, and performance in engineering, architecture, and scientific applications and programs;
Examine the interaction of materials in their processes and applications, taking into account the associated equipment, systems, components, and their fabrication, design, or use;
Develop, maintain, and apply materials and material solutions to meet certain mechanical, electrical, environmental, and chemical requirements; and/or
Test and evaluate substances for new applications.
Government Requirements:
You must be U.S. citizen to apply.
The yearly salary for a GS-13 is $87,252 to $113,428.
Typical Duties and Occupational Profile:
Materials engineers work with metals, ceramics, and plastics to create new materials.
Materials engineers develop, process, and test materials used to create a range of products from computer chips and aircraft wings to golf clubs and biomedical devices. They study the properties and structures of metals, ceramics, plastics, composites, nano-materials (extremely small substances), and other substances in order to create new materials that meet certain mechanical, electrical, and chemical requirements. They also help select materials for specific products and develop new ways to use existing materials.
Duties
Materials engineers typically do the following:
Plan and evaluate new projects, consulting with other engineers and managers as necessary
Prepare proposals and budgets, analyze labor costs, write reports, and perform other managerial tasks
Supervise the work of technologists, technicians, and other engineers and scientists
Design and direct the testing of processing procedures
Monitor how materials perform and evaluate how they deteriorate
Determine causes of product failure and develop ways of overcoming such failure
Evaluate technical specifications and economic factors relating to the design objectives of processes or products
Evaluate the impact of materials processing on the environment
Materials engineers create and study materials at the atomic level. They use computers to understand and model the characteristics of materials and their components. They solve problems in several different engineering fields, such as mechanical, chemical, electrical, civil, nuclear, and aerospace.
Materials engineers may specialize in understanding specific types of materials. The following are examples of types of materials engineers:
Ceramic engineers develop ceramic materials and the processes for making them into useful products, from high-temperature rocket nozzles to glass for LCD flat-panel displays.
Composites engineers develop materials with special, engineered properties for applications in aircraft, automobiles, and related products.
Metallurgical engineers specialize in metals, such as steel and aluminum, usually in alloyed form with additions of other elements to provide specific properties.
Plastics engineers develop and test new plastics, known as polymers, for new applications.
Semiconductor processing engineers apply materials science and engineering principles to develop new microelectronic materials for computing, sensing, and related applications.
Materials engineers plan and evaluate new projects, consulting with others as necessary.
Materials engineers must have a bachelor's degree in materials science and engineering or in a related engineering field. Completing internships and cooperative engineering programs while in school can be helpful in getting a position as a materials engineer.
Education
Students interested in studying materials engineering should take high school courses in math, such as algebra, trigonometry, and calculus; in science, such as biology, chemistry, and physics; and in computer programming.
Entry-level jobs as a materials engineer require a bachelor's degree. Bachelor's degree programs include classroom and laboratory work focusing on engineering principles.
Some colleges and universities offer a 5-year program leading to both a bachelor's and master's degree. A graduate degree allows an engineer to work as a post-secondary teacher or to do research and development.
Many colleges and universities offer internships and cooperative programs in partnership with industry. In these programs, students gain practical experience while completing their education.
Many engineering programs are accredited by ABET. Some employers prefer to hire candidates who have graduated from an accredited program. A degree from an ABET-accredited program is usually necessary to become a licensed professional engineer.
Important Qualities
Analytical skills. Materials engineers often work on projects related to other fields of engineering. They must determine how materials will be used and how they must be structured to withstand different conditions.
Math skills. Materials engineers use the principles of calculus and other advanced topics in math for analysis, design, and troubleshooting in their work.
Problem-solving skills. Materials engineers must understand the relationship between materials' structures, their properties, how they are made, and how these factors affect the products they are used to make. They must also figure out why a product might have failed, design a solution, and then conduct tests to make sure that the product does not fail again. These skills involve being able to identify root causes when many factors could be at fault.
Speaking skills. While working with technicians, technologists, and other engineers, materials engineers must state concepts and directions clearly. When speaking with managers, these engineers must also communicate engineering concepts to people who may not have an engineering background.
Writing skills. Materials engineers must write plans and reports clearly so that people without a materials engineering background can understand the concepts.
Licenses, Certifications, and Registrations
Licensure for materials engineers is not as common as it is for other engineering occupations, nor it is required for entry-level positions. A Professional Engineering (PE) license, which allows for higher levels of leadership and independence, can be acquired later in one's career. Licensed engineers are called professional engineers (PEs). A PE can oversee the work of other engineers, sign off on projects, and provide services directly to the public. State licensure generally requires
A degree from an ABET-accredited engineering program
A passing score on the Fundamentals of Engineering (FE) exam
Relevant work experience, typically at least 4 years
A passing score on the Professional Engineering (PE) exam
The initial FE exam can be taken after earning a bachelor's degree. Engineers who pass this exam are commonly called engineers in training (EITs) or engineer interns (EIs). After meeting work experience requirements, EITs and EIs can take the second exam, called the Principles and Practice of Engineering (PE).
Each state issues its own licenses. Most states recognize licensure from other states, as long as the licensing state's requirements meet or exceed their own licensure requirements. Several states require continuing education for engineers to keep their licenses.
Certification in the field of metallography, the science and art of dealing with the structure of metals and alloys, is available through ASM International and other materials science organizations.
Additional training in fields directly related to metallurgy and materials' properties, such as corrosion or failure analysis, is available through ASM International.
Other Experience
During high school, students can attend engineering summer camps to see what these and other engineers do. Attending these camps can help students plan their coursework for the remainder of their time in high school.
Advancement
Junior materials engineers usually work under the supervision of experienced engineers. In large companies, new engineers may receive formal training in classrooms or seminars. As engineers gain knowledge and experience, they move on to more difficult projects where they have greater independence to develop designs, solve problems, and make decisions.
Eventually, materials engineers may advance to become technical specialists or to supervise a team of engineers and technicians. Many become engineering managers or move into other managerial positions or sales work. An engineering background is useful in sales because it enables sales engineers to discuss a product's technical aspects and assist in product planning, installation, and use. For more information, see the profiles on architectural and engineering managers and sales engineers.
GS-0806-Materials Engineer
General qualifications excerpted from Job Announcement WTHI176993975616
Responsibilities
Provide technical consulting services to Corps Districts, Department of Defense Major commands and installations relating to airfield and roadway pavement materials and construction.
Provide technical consulting to Architect-Engineers (A-E) relating to airfield and roadway pavement materials and construction, with emphasis on materials testing, mix design development and review and batch plant inspections.
Provide technical oversight of concrete and asphalt batch plant inspections; concrete uniformity testing; preparatory inspections for all aspects of airfield and roadway paving projects.
Inspect and evaluate concrete and asphalt paving test sections.
Perform review of construction submittals to include paving equipment, paving plan, and paving materials test results.
Perform review for Portland Cement Concrete (PCC) and Hot Mix Asphalt (HMA) mix designs.
Qualifications
Basic Requirement for Materials Engineer (transcripts are required at time of application):
Degree: Bachelor's degree (or higher degree) in engineering.
(1) lead to a bachelor's degree (or higher degree) in a school of engineering with at least one program accredited by the Accreditation Board for Engineering and Technology (ABET);
(2) include differential and integral calculus and courses (more advanced than first-year physics and chemistry) in five of the following seven areas of engineering science or physics: (a) statics, dynamics; (b) strength of materials (stress-strain relationships); (c) fluid mechanics, hydraulics; (d) thermodynamics; (e) electrical fields and circuits; (f) nature and properties of materials (relating particle and aggregate structure to properties); and (g) any other comparable area of fundamental engineering science or physics, such as optics, heat transfer, soil mechanics, or electronics.
Combination of Education and Experience: College-level education, training, and/or technical experience that furnished:
(1) a thorough knowledge of the physical and mathematical sciences underlying engineering.
(2) a good understanding, both theoretical and practical, of the engineering sciences and techniques and their applications to one of the branches of engineering. The adequacy of such background must be demonstrated by one of the following:
Professional registration or licensure – Current registration as an Engineer Intern (EI), Engineer in Training (EIT), or licensure as a Professional Engineer (PE) by any State, the District of Columbia, Guam, or Puerto Rico. Absent other means of qualifying under this standard, those applicants who achieved such registration by means other than written test (e.g., State grandfather or eminence provisions) are eligible only for positions that are within or closely related to the specialty field of their registration. For example, an applicant who attains registration through a State Board's eminence provision as a manufacturing engineer typically would be rated eligible only for manufacturing engineering positions.
Written Test – Evidence of having successfully passed the Fundamentals of Engineering (FE) examination, or any other written test required for professional registration, by an engineering licensure board in the various States, the District of Columbia, Guam, or Puerto Rico.
Specified academic courses – Successful completion of at least 60 semester hours of courses in the physical, mathematical, and engineering sciences and that included the courses specified in A above. The courses must be fully acceptable toward meeting the requirements of an engineering program.
Related curriculum – Successful completion of a curriculum leading to a bachelor's degree in an appropriate scientific field, e.g., engineering technology, physics, chemistry, architecture, computer science, mathematics, hydrology, or geology, may be accepted in lieu of a degree in engineering, provided the applicant has had at least
One year of professional engineering experience acquired under professional engineering supervision and guidance. Ordinarily there should be either an established plan of intensive training to develop professional engineering competence, or several years of prior professional engineering-type experience, e.g., in interdisciplinary positions.
pavement construction.
2) quality control/quality assurance of paving materials testing.
3) conducting inspections of airfield/roadway paving projects. This definition of specialized experience is typical of work performed at the next lower grade/level position in the federal service (GS- 12).
Job Prospects
Employment of materials engineers is projected to grow 2 percent from 2016 to 2026, slower than the average for all occupations. Materials engineers will be needed to design new materials for use both in traditional industries, such as aerospace manufacturing, and in industries focused on new medical or scientific products. However, most materials engineers work in manufacturing industries, many of which are expected to have declines or little change in employment.
Demand for materials engineers is expected to come from growing fields, such as biomedical engineering and three-dimensional printing. For example, materials engineers' expertise is crucial in helping biomedical engineers develop new materials for medical implants.
Research and development firms will increasingly employ materials engineers as they explore new uses for materials technology in consumer products, industrial processes, and medicine.
Prospects should be best for applicants who gained experience by participating in internships or co-op programs while in college.
Computer modeling and simulations, rather than extensive and costly laboratory testing, are increasingly being used to predict the performance of new materials. Thus, those with a background in computer modeling should have better employment opportunities.
Resources
Helpful Career Planning Tools
The information provided may not cover all aspects of unique or special circumstances, federal and postal regulations, and programs are subject to change. Our articles and replies are time sensitive. Over time, various dynamic human resource guidance and factors relied upon as a basis for this article may change. The advice and strategies contained herein may not be suitable for your situation and this service is not affiliated with OPM, the postal service or any federal entity. You should consult with school counselors, hiring agency personnel offices, and human resource professionals where appropriate. Neither the publisher or author shall be liable for any loss or any other commercial damages, including but not limited to special, incidental, consequential, or other damages.