There are many options for job seekers to explore in both the government and private sectors. Sound job seeking principles and guidance are universal and not confined to any one sector. This book will help anyone explore their options and find viable employment.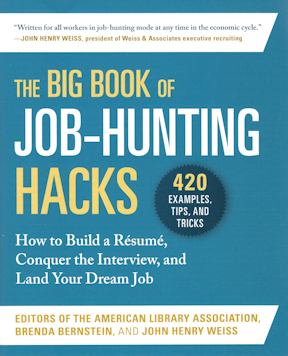 Editors of the American Library Association, Brenda Bernstein, and John Henry Weiss recently published The BIG BOOK of JOB-HUNTING HACKS. This exceptional guide covers how to build a resume, conquer the interview, and land your dream job. This 388-page reference should be on every library shelf and those seeking employment in these difficult times will find this an invaluable tool to help them get back on their feet or find a more rewarding job — even in this environment.
The book is rationally divided into three parts: how to get a great job, how to write a stellar executive resume, and moving forward in mid-career. All tied together, you have everything you need at your fingertips for your personal job search. John Weiss is the president of Weiss and Associates recruiting and author of many books including Operation Jobs Search: A Guide for Military Veterans Transitioning to Civilian Careers, and Welcome to the Real World: A complete Guide to Job Hunting for the Recent College Grad.
According to the authors, "the purpose of this book is twofold —to help laid-off workers deal with the trauma of having their paychecks and benefits suddenly disappear, and to guide them through the job-hunting process. The tips in this book provide job seekers with practical advice for finding a new job no matter the state of the economy."
I found the book right on target providing the foundation job seekers need in these difficult times. Readers will not be disappointed and job seekers can use it as a workbook, adding notes to the margins, highlighting key points and actions needed to land their desired position.
All-in-all a great book for a very reasonable price and a valuable addition to your job seeking efforts.
Helpul Job Hunting Information:
Disclaimer: The information provided may not cover all aspects of unique or special circumstances, federal and postal regulations, and programs are subject to change. Our articles and replies are time sensitive. Over time, various dynamic human resource guidance and factors relied upon as a basis for this article may change. The advice and strategies contained herein may not be suitable for your situation and this service is not affiliated with OPM, the postal service or any federal entity. You should consult with school counselors, hiring agency personnel offices, and human resource professionals where appropriate. Neither the publisher or author shall be liable for any loss or any other commercial damages, including but not limited to special, incidental, consequential, or other damages.